Cost Estimation For Building Construction -your Perfect Budget Partner
Cost estimation for building construction is an integral part of any construction project. Without this, construction costs can become a liability at a later stage of the project. A construction cost estimator is normally part of the budgetary planning process, making it one of the initial phases.
So, what exactly does a construction estimator entail in terms of financial planning? Construction cost estimating comprises the calculation of costs relating to the following aspects of a building project:
Cost Estimations For Building Construction Carefully Cost Of The Items Such As:
Plant
This includes costing for the heavy machinery and other equipment required to complete the project. For example, cranes, excavators, power stations, bulldozers, and forklifts are some equipment to take into account.
Labour
Estimating the number of resources needed to complete the project successfully is another important part of construction cost estimating services.

Materials
Materials form another integral part of the building estimating service. These can include items such as bricks, cement, mortar, sealants, wood, etc.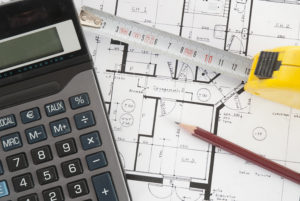 Material and plant equipment may need to be purchased from local vendors or from sellers around the world. All of these specific cost details need to be included in any commercial construction estimating services.
We at Measure Manage are your perfect partners in availing professional construction estimating services. We have been part of numerous estimating projects in building construction, delivering thorough construction cost guides to clients. Our experience and expertise in the estimating service are definitely worth investing in.
Benefits Of Thorough Cost Estimation For Your Construction Business:
Construction cost estimation is a benefit to your business in many ways. Getting a good handle on the estimation process is vital in keeping the project successful. It also allows you to stay on top of the constraints and liabilities that may occur. Expenses are a key factor to control and analyse in a construction project, and estimation gives you that control.
Here are some advantages your project can avail of using our estimation services:
Minimize wastage by getting the right estimates of equipment, material, and resources required for a project. Reduce the risk or over budgeting or under budgeting – the cost estimation process allows for variations in the budget that may occur, thereby reducing risks or surprises in the future.
Ensure consistency in the processes and procedures throughout the project.
Use the ability to add contingencies that can help buffer changes at later stages in the project.
Gain insightful knowledge into market rates for labour and material.
Compare rates and make informed decisions on the best-suited options.
Cost estimation goes a long way in keeping the project on track. You can accomplish this using the set structure for various factors such as labour, material, and tools.
Get a clearer picture of the construction project, including timelines and future plans.
When setting a project's parameters, one of the most important factors is construction cost estimating. This process is most effective when gone using a blend of numbers from actual data and a healthy assumption of future numbers. Keep in mind that time also plays an important factor in the estimation process. The longer the project runs, the more costs are incurred. So essentially, time is money!
What We At Measure Manage Provide With Our Estimation Services
Our team of expert estimators at Measure Manage are fully equipped to deal with any size and type of construction cost guide in the construction industry. We liaise with the quantity surveyor to get a thorough understanding of the aspects to take into consideration. The process of identifying a baseline to start with falls under the duties and responsibilities of a quantity surveyor.
Here are some types of estimation services that we offer.
Commercial developments – a commercial construction cost estimator is used for buildings such as offices, complexes, plazas, malls, etc.
Renovations and extensions – building estimators are required for projects such as remodelling buildings, repairing damaged structures, extending floors or rooms within existing buildings, and the like.
New homes – building new homes, though on a smaller scale than large commercial structures, also require thorough home building cost estimators. Some important aspects that come under home construction cost estimators include electrical estimator, plumbing cost estimator, design cost estimator, etc.
Civil projects – building estimates contractors are used for civil construction projects as well.
The Measure Manage team is skilled in all the above building estimate types, and are capable of providing quality and timely contract estimation services. Some specialized trades that we partner with include concrete companies, carpentry companies, electrical companies, plumbing companies, etc.
Measure Manage is a Professional Cost Estimation Service in Perth Western Australia. Call us now at 0489 202 445 or Feel Free to Contact Us
Ways To Build The Perfect Construction Cost Estimate
Estimating construction costs can be handled in multiple ways, depending on the available content and the size of the project. Here are some ways that we at Measure Manage go about giving you the perfect construction cost estimation.
First-principles estimation – this method involves estimating costs based on the principle aspects of construction such as plant, labour, and materials.
Using existing data – cost estimation can also be done using the client's existing rates and adjusting them to the current project needs. Market conditions and current rates also come into context when getting such estimates and many more
Regardless of the size, type and location of your project, Measure Manage analyse some important aspects of every project. This includes project design, marketing costs, construction process involved, etc. We use intuitive construction cost calculators that can input all these factors and deliver accurate and thorough estimates.
We can estimate the costs of using first principles estimating taking into account the plant, labour, and materials to complete a project. Another way we can estimate a project is by using the client's rates and tweaking them to suit the project and the market conditions to maximize the chances of securing the project and the future of your business.
Our focus is on precision. We understand the importance of accuracy when estimating the cost of construction, as the success of the project depends on it. Our estimates are reliable and you can count on us to minimize wastage and over/under-budgeting while taking into account all relevant factors.
In our experience, the factors which have the most significant impact on the construction cost include marketing, design and the actual construction process. Our construction estimator services incorporate all these factors and more to deliver an accurate estimate, regardless of the location and scale of your project.
We also provide a range of other related services, including handling construction tenders. We can be your full-service support team for all current and future projects you work on. To learn more about our construction estimation services, head to the Contact Us page and drop us a line. We will get back to you right away.
Measure Manage in cost estimation – our service guarantee
We at Measure Manage are solely focused on precision. Our in-depth understanding of the construction estimating business gives us the drive to remain accurate in our services. The very success of a project is reliant on the proper construction cost estimate. We guarantee to help you scale those heights of success. For the best building cost estimator in Perth, reach out to us today!
Frequently Asked Questions (FAQs)